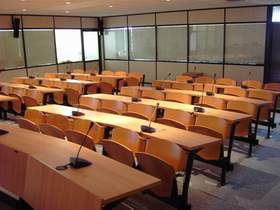 General Information
Thessaloniki's ΑΤΕΙ made use of European Union's fundsand created the Tele-education room. This room serves the academic needs of Thessaloniki's ΑΤΕΙ for producing and participatin in distance learning courses and or teleconferences.
Eligible for using the facility is the academic staff of Thessaloniki's ΑΤΕΙ (see terms and conditions in our Usage Regulation).
The Tele-education Room is fully equipped with industry standard teleconference equipment (H.323). A description of the room's equipment and its capabilities can be found here. You can also see some pictures from the room.
In order to use the room you have to fill in an application form and send it to theAdministration Team of the room. See also thecalendar for the days and hours the room is available.